Outdoor Digital TV and FM Radio Antenna - 150" Boom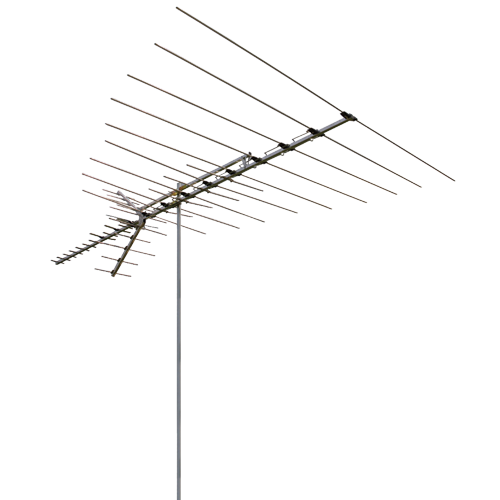 $139.99
Model :&nbsp ANT3038E
FREE Ground Shipping
(Use promo: FREESHIP)
KEY FEATURES
Receives TV broadcasts including 4K and 1080 HDTV for highest-quality picture and sound, both UHF and VHF stations up to 80 miles from the tower

Simplifies installation with pre assembled design, easy lock fold out UHF reflector and snap lock elements

Withstands tough outdoor conditions with superior construction and materials
SETUP IS EASY - 1•2•3 INSTALLATION
PRODUCT OVERVIEW
Kiss those cable bills goodbye, with this outdoor antenna that picks up several HD and Digital local broadcast stations for free. Powerfully reads signals up to a 100 mile radius where it can even pick up 75 channels that will have one blown away in astonishment. Its colossal durable construction makes it the perfect match to outlast through tough weather conditions. This is the best solution for one to receive digital, HDTV and FM radio reception. Its pre-assembled design makes the installation process as simple as possible.
Features
(continued)
Cross phase multi element design
Specifications
| | | |
| --- | --- | --- |
| Range (Distance) | | 80 miles |
| Color | | Metal |
| Included | | Antenna, Mounting hardware, 75ohm matching transformer |
| Dimensions | | 7H x 71.25W x 7.25D |
| Weight (Kg/lb) | | 13.1 lbs |
CUSTOMER REVIEWS
"cut the cord" antenna
by
Colbee Morin
, on
2019-Dec-04
I used this antenna at my house 5 years ago & it has brought in many local tv stations(free tv). I have saved a ton of $ since doing this. I recently bought another one of these awesome antennas & installed it at my mom's home - another successful installation w/great results(lots of channels). A+
RCA ANT3038E Antenna
by
Jay Heidenreich
, on
2019-Nov-17
I purchased the RCA ANT3038E antenna to replace a smaller outdoor antenna that I had mounted to the chimney of my house. Assembly of this larger antenna took a little patience, but went smoothly. I was impressed by the quality and design of this product. now have excellent HD reception.
TOP 5
REASONS TO GET AN ANTENNA
Don't let other providers fool you, the best possible uncompressed HD signal is delivered with an RCA antenna. You shouldn't settle for a lesser picture when you know your TV is capable of delivering much more.