RCA Amplified Indoor HDTV Antenna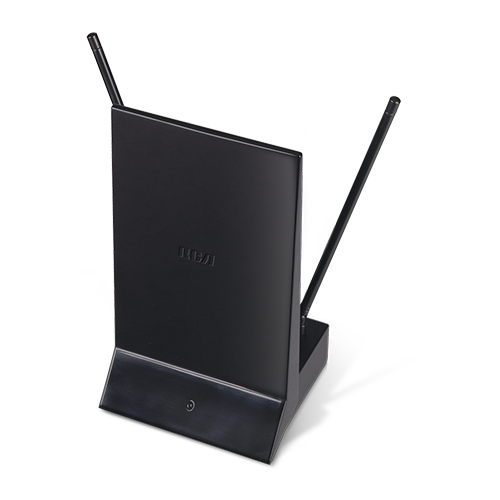 KEY FEATURES
Enjoy top-rated HDTV network programming and your favorite shows for Free.* No monthly fee, no subscription, no contract.

Supports up to 1080i HDTV broadcasts for high-quality picture and sound

Unique flat-panel UHF element for digital and analog channels 14-69
SETUP IS EASY - 1•2•3 INSTALLATION
PRODUCT OVERVIEW
Impeccable quality will amaze you after seeing the number of HD channels you will receive with this amplified indoor antenna. Comes with dual isolated and adjustable gain controls for improved signal reception of both UHF and VHF channels. With the use
Features
(continued)
Dipoles extend and adjust for digital and analog channels 2-13
Advanced SmartBoost? technology amplifies weak signals to deliver the most channels possible while filtering out false signals.
Great complement to streaming players
Dependable backup television source when storms knock out cable or satellite television
CUSTOMER REVIEWS
Good results
by
Paul Morgan
, on
2019-Apr-12
Seems to work. Finding best spot for mounting is not easy. Wish cable could be swapped with white, instead of being fixed in place in black. Also would be nice to have a white version of the antenna.
TOP 5
REASONS TO GET AN ANTENNA
Don't let other providers fool you, the best possible uncompressed HD signal is delivered with an RCA antenna. You shouldn't settle for a lesser picture when you know your TV is capable of delivering much more.