Ultra-Thin HDTV Antenna - Multi-Directional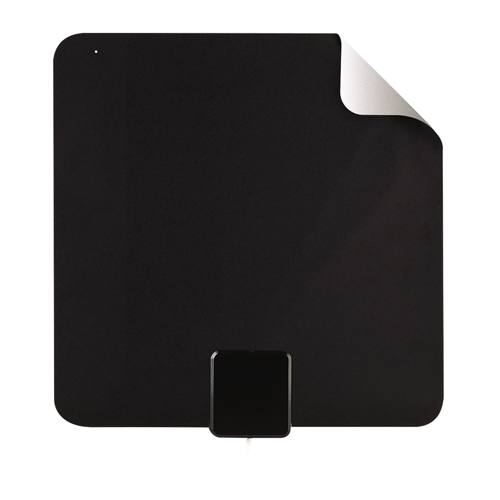 $19.99
Model :&nbsp ANT1080E
KEY FEATURES
Enjoy top-rated HDTV network programming and your favorite shows for Free with no monthly fee or subscription.

Receives TV broadcasts including 4K, 8K and 1080 HDTV for highest-quality picture and sound, both UHF and VHF stations - up to 35 miles from broadcasts towers

Patented, 360° multi-directional design eliminates need for constant adjustments Ultra-thin profile design blends with any decor and is two-sided, black and white
SETUP IS EASY - 1•2•3 INSTALLATION
PRODUCT OVERVIEW
Get the most reliable HDTV network programming and your favorite shows for FREE with RCA's Ultra-Thin HDTV Multi-Directional Antenna! Its patented 360° multi-directional design eliminates the need for frequent adjustments, plus its ultra-thin profile design will blend in with any indoor decor. Simply hang it on the wall or window - the package includes removable two-sided mounting tape as well as a 15' built-in coax cable for optimal placement. This device serves as a dependable backup television source when cable or satellite signals are knocked out due to unfavorable weather, plus it's a great complement to streaming players. Download our free Signal Finder app to help locate the most effective placement. With RCA antennas you'll enjoy no monthly fees, subscriptions or contracts - no strings attached.
Features
(continued)
Hang antenna on the window or the wall with the included removable two-sided mounting tape for best reception
15 ft built-in coax cable
Free RCA Signal Finder App - the digital compass that gives you the most HD channels and aligns your antenna perfectly!
Great complement to streaming players Dependable backup television source when storms knock out cable or satellite television
Designed and engineered in the USA
Specifications
| | | |
| --- | --- | --- |
| Dimensions | | 7.87"H x 8.10"W x 0.45"D |
| Weight (Kg/lb) | | 0.23 lbs |
TOP 5
REASONS TO GET AN ANTENNA
Don't let other providers fool you, the best possible uncompressed HD signal is delivered with an RCA antenna. You shouldn't settle for a lesser picture when you know your TV is capable of delivering much more.